ARK MAP GONDOR STEAM
2018-08-13
- Various small mistakes correction
- Spawn adjustments (still looking for optimal settings) Beaver, Griffin, Quetz, Crabs, Spinos, Giga
- City expanded with a new cave (but you can not enter the cave yet)
2018-09-06
- Texturnen updated.
- fault has been corrected
- New city under construction

- Attention to the volcanic cave you can not fly there you will be thrown off. Just like in the spider moat.
2018-07-31
- To finish the area behind the volcano - Finished the walk down to the volcano - started underwater cave
2018-07-29
- Vulcan is ready so far - I started the underwater world
2018-07-26
- The volcano is finished so far: Attention the lava is now death zone. - The snow biome now has a temperature adjustment - The brook in the redwood is color-matched - Now spawn aquatic animals.
2018-07-14
I have uploaded some updates - Improvement of river courses - A big ruin in the redwood - complete change of the dark forest, which is not yet dark. - volcano, and volcanic cave (is also still dark) Annex a picture Since I have about 50% of the card, but still has to revise some details in the finished areas.
2018-06-12
Have again uploaded an update with the rest of the redwoods and bug fixes.
Have the Dino Spawns set on the lowest level and in some places to zero.
In the big city you can now build on the structures.
The Spaces Z plants should work. Can you give me a feedback?
And if you find any mistakes, please let me know.
I think next I will expand the volcano, that will take a little longer.
2018-05-24
I uploaded an update today with some bug fixes to get more FPS. Unfortunately, I first had to take out the colorful meadow she has to be relinked and then back in.

The Dino Spawns are overworked, now animals everywhere should be sponging except for the desert and water. Water I think comes next.

And I have revised some areas and improved ...

2018-04-20
Landscape correction, jungle expanded
2018-04-18
expansion of the Great Falls.
2018-03-20
Added new biome - spawn added
2018-03-23
Details work-up, performance optimization, new spawn, airdrops, Landscapes expanded
Upcoming Update:
2018-03-14
- spawn corrected
2018-03-13
big islands revised.added new spawn.
2018-03-09
Three islands revised. Mistake corrected. added new spawn.
2018-03-06
- spawn Error Correct
2018-03-03
Small corrections to the lanscape Dark forest and ravine slightly lighter. You can now harvest crystals in the gorge. Some river rock placed. There are also Naco flowers on the islands now.
2018-03-01
- Added new biome (dark biome) - spawn added - Fault has been corrected
2018-02-16
- "The Great Lake" added
- Textures update
- Rock Update
2018-02-10
- a crypt was added.
- Added a blooming forest.
- faulty texture replaced.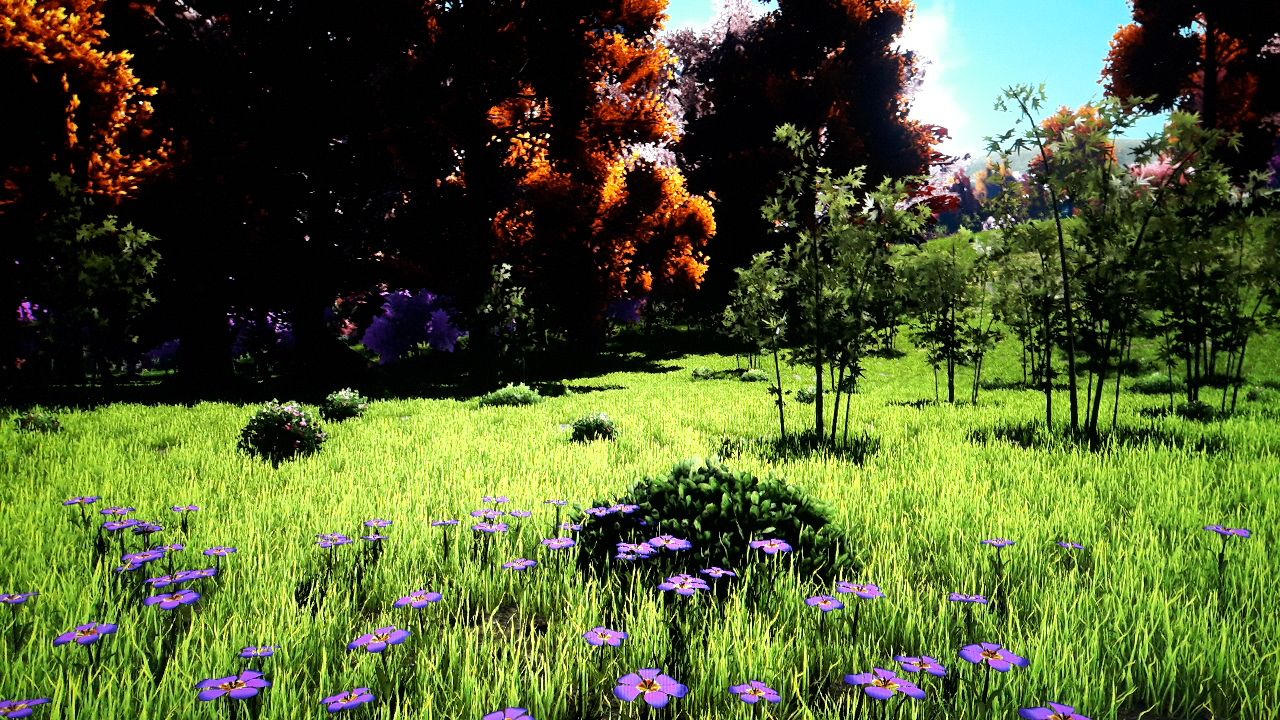 2018-02-03
- Gondor City - Textures corrected
2018-02-02
- Gondor City added
2018-01-26
2018-01-26
- Redwood, created.
- Vulcan in work.
Content follows.